About GolfStatLab
Introduction
GolfStatLab is widely regarded by leading golf coaches and touring professionals as being the world's most powerful golf stats analysis system. It can be globally accessed through any computer which is connected to the internet with no additional software being required.
Born out of the necessity to provide players with objective performance feedback to tailor training programs for the fastest and best effect, Cameron McCormick unfulfilled with existing performance analysis solutions embarked on creating his own… after 3 years of development came GolfStatLab.
After the launch, Cameron continued to direct the development and direction of GolfStatLab to make an even more powerful tool that works in the real world of performance golf instruction. In 2014 a completely new version of GolfStatLab went live with new features and more powerful reporting and analysis tools.
GolfStatLab provides our clients with a unique and comprehensive analysis of their games, helping young golfers to develop, and assisting talented golfers to improve to new levels previously unimagined.
By focusing on precise areas of strength and weakness, we give individual golfers a greater understanding of their game and help them maximize their time and therefore their potential.
The Aim of GolfStatLab
The aim of GolfStatLab is to enable male and female golfers of all standards to use the world's most advanced system for recording, analysis and comparison of their golf performance. We enable users to identify their current and long term strengths and weaknesses plus, compare their key performance indicators against either themselves (using multiple filters), or other performance segments as a means for goal setting and training development.
Meet Cameron McCormick
McCormick's nearly 2,000 hours on the lesson tee each year include coaching:
Jordan Spieth the 2009 and 2011 US Junior Champion and PGA Tour player
Mina Harigae a LPGA tour player
Nathan Green a former PGA Tour winner
Jason Enloe a two time winner on the Nationwide Tour
Former United States President George W. Bush
His student list covers the gamut from beginners and weekend amateurs to AJGA junior champions and USGA national champions to an ever-growing list of professional athletes with victories on multiple professional tours.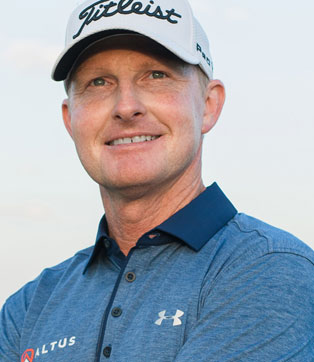 An accomplished player himself, McCormick moved to the United States from Melbourne, Australia to accept a golf scholarship to Butler County Junior College in Wichita, KS before being awarded a scholarship to play for Texas Tech. He later played professionally in Australia and the United States.
His knowledge of what it takes to compete effectively – combined with his ability to communicate in a variety of manners – has attracted many of North Texas best juniors, amateurs and professional players to work with him on their games. McCormick is well known for his ability to quickly assess a student's critical skills. Gaining an understanding of a player's strengths and weaknesses hthe mutually agreed upon performance goals.
McCormick is a student of all subjects critical to performance including biomechanics, kinesiology, sports psychology and motor learning. He has developed a knowledge-base well beyond his years. He has surrounded himself with the world's finest teachers whether under the tutelage of the former Victorian Institute of Sport coach Steve Bann, or when during his early years in the business he traveled across America to observe and study under Butch Harmon, Chuck Cook, Rick Martino, Mark Wood, Craig Shankland, Hank Johnson, Cameron Doan and Marius Filmalter.
McCormick bases his coaching philosophy on creating a plan that aligns with the student's goals and commitment level. When everything comes together the student is able to practice and play in a "flow state" where the student becomes fully immersed in what he or she is doing with a feeling of energized focus, full involvement and increased success. To help his students reach this level in their golf experience, McCormick sets clear goals, provides direct and immediate feedback and creates the proper balance between the golfers ability level and the training challenges he creates for each individual.
McCormick is a PGA Class A professional and has had his instruction articles published in Golf Digest, DFW Links Magazine, Golf Illustrated, PGA Magazine and FORE Texas Magazine.
Awards
2013 Winner - Teacher of the Year, NTPGA Section
2010-2013 - Golf Digest Best Young Teacher
2010, 2011, 2012 - US Kids Golf Top 50 Coach
2009 Golf Digest Best in State nominee
2009 US Kids Honorable mention best instructor
2007 Winner - Teacher of the Year, NTPGA Section
2006 Winner - Teacher of the Year, NTPGA Metropolitan chapter
2005 Nominated for NTPGA Teacher of the Year
Education
2003 - Class A PGA Professional
1994 - 1997 Texas Tech University Lubbock, TX

B.S., International Business - GPA 3.40
Scholarship Athlete, Academic All-Conference 94-97, SWC Conference Champions 1994
Training
2009 TPI Level 2 Certified Golf Fitness Instructor
2009 TPI Level 2 Certified Junior Development Instructor
2008 TPI Level 1 Certified Golf Fitness Instructor
2005 Mastering the Essentials of World Class Teaching Seminar
2004 Trained under Craig Shankland, Hank Johnson, Cameron Doan and Marius Filmalter
2003 Trained under Butch Harmon, Chuck Cook, Dr. Rick Jensen, Rick Martino and Mark Wood