All The Stats,
For All Your Players.
All In One Place.
GolfStatLab gives you individual and group insights so you create the most powerful and productive training program possible.
Deep Performance Data for One and All
Coaching a team or running an academy has unique challenges.
Every group has their own strengths and weaknesses, and so does each player.
One-size-fits all training isn't going to work, and that is why so many high performance academies, teams and schools use Golf Stat Lab.
Golf Stat Lab brings all the power of reporting and analysis on over 200 stats to groups and individuals alike, all in the same place.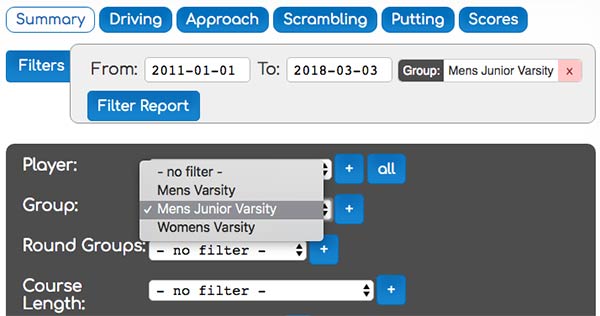 Individual and Group Stats and Reports
Golf Stat Lab can give you deep insight into the performance of each player in your group so you can see individual strengths and weaknesses.
All the reports and stats available to individuals is also available to groups. With just a few clicks you can see the overall performance of your team, or a subset of them so you know where your group is doing well, and where they need to improve.
You can even compare the performance of any player to a group to see where they stand. Whatever data you need to craft the perfect training program, you'll have it with Golf Stat Lab.
Flexible Accounts and Grouping
We know that every golf program is different. That's why we made Golf Stat Lab flexible so you can set it up to match your needs.
You can create as many groups as you want so you can get the right players together.
Want everyone in one group? No Problem.
Want a Varsity and Junior Varsity group? Go ahead.
Want to split up your players by age? Have at it.
No matter how you want to group your players, you can.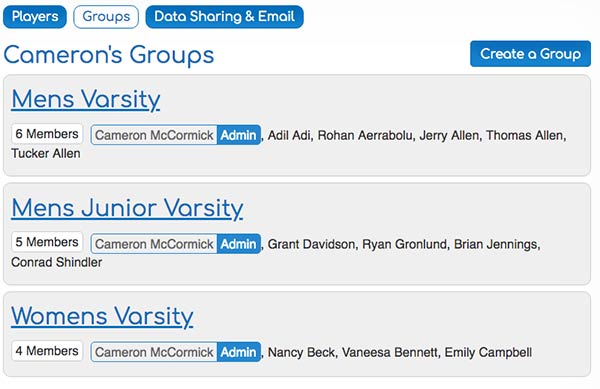 Multiplayer Discounts
With Golf Stat Labs data sharing capabilities, you can create teams and groups with players no matter who pays for their account. You can even mix and match so you cover some players with your account and have others pay for their own membership.
While it doesn't matter who pays for who to share data, multiplayer accounts do get big discounts on the membership fees.
Check out the Get Started Page to see the pricing and discounts available.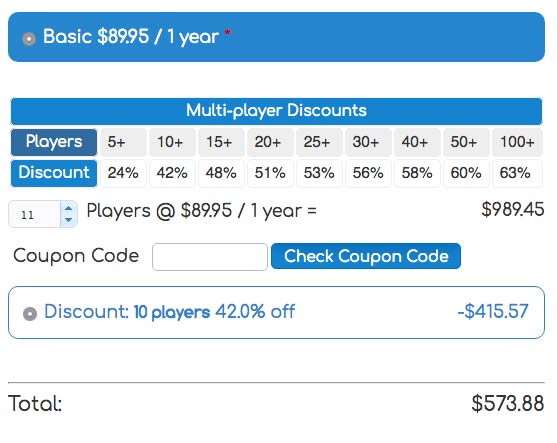 Free Accounts
GolfStatLab offers coaches and team leaders a free account option that allows them to view the rounds and reports of their players that use GolfStatLab. This is great for multiple coaches, parents and schools that want to see player data. If you don't enter rounds you played, you don't need to pay.
Players can share their data with multiple accounts, so you can get your whole support team involved with free accounts.
Crack the code to lower scoring!