Stop the guesswork.
Improve your game.
Score lower.
With GolfStatLab you will always know what to work on to get the best results and the lowest score.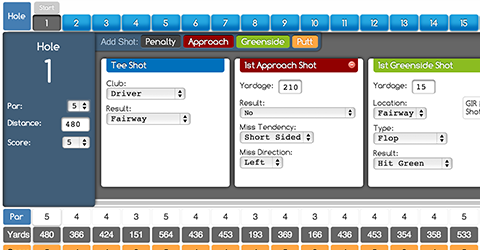 1. Enter Your Round
After you finish a round, take 5 minutes to enter your statistics into the system.
Begin by selecting the course you played, the type of round and the weather conditions.
Then move on to entering the round stat information. Each hole requiring no more than 15 seconds, you'll be done in no time.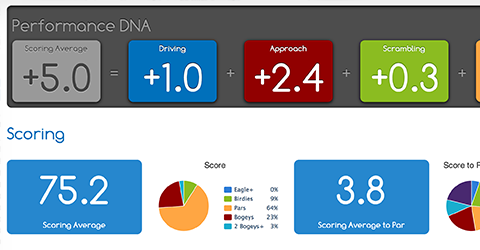 2. View Your Reports
After each round you have access to performance reports immediately.
The fastest way to find what areas need work is by using the summary reports. They provide a clear picture of your Key Performance Indicators.
The better you get the more detailed the assessment will need to be. Meet with your coach to discuss the detailed reports to tease out the key areas for your practice focus.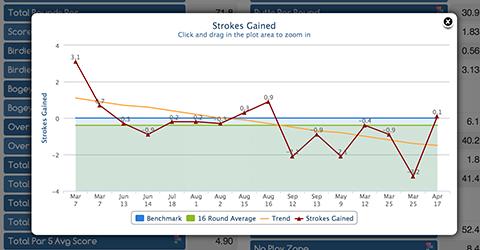 3. Score Lower
Taking the information from the reports and putting it into action is the last critical step.
In order to improve you must work on your weakest skills. Raise them up and you raise the bar for your performance.
GolfStatLab enables you to bring your coach in on the improvement process. Allow your coach access to your reports by selecting them in your account profile. He/She will receive an notification of your entered rounds and will be ready to help you improve your skills in the next lesson.
Everyone on the same page
Keep everyone in the loop with the data sharing features of GolfStatLab. Players, coaches, team leaders and parents can all keep up with the progress so everyone can work together.
Keep everyones eye on the prize.
Real Improvement
GolfStatLab has helped golfers from all over the world improve their game.
The AJGA Champions, USGA Champions, Nationwide Tour Champions and PGA Tour players who use GolfStatLab can't be wrong.
Crack the code to lower scoring!